This page will teach you how to properly setup, test and begin using the Logitech C930e webcam along with the LED ring light and accompanying stand.
Please read through this guide carefully before attempting to setup the gear on your own. Finally, if you prefer to learn these materials through a video tutorial instead of text and images, please click here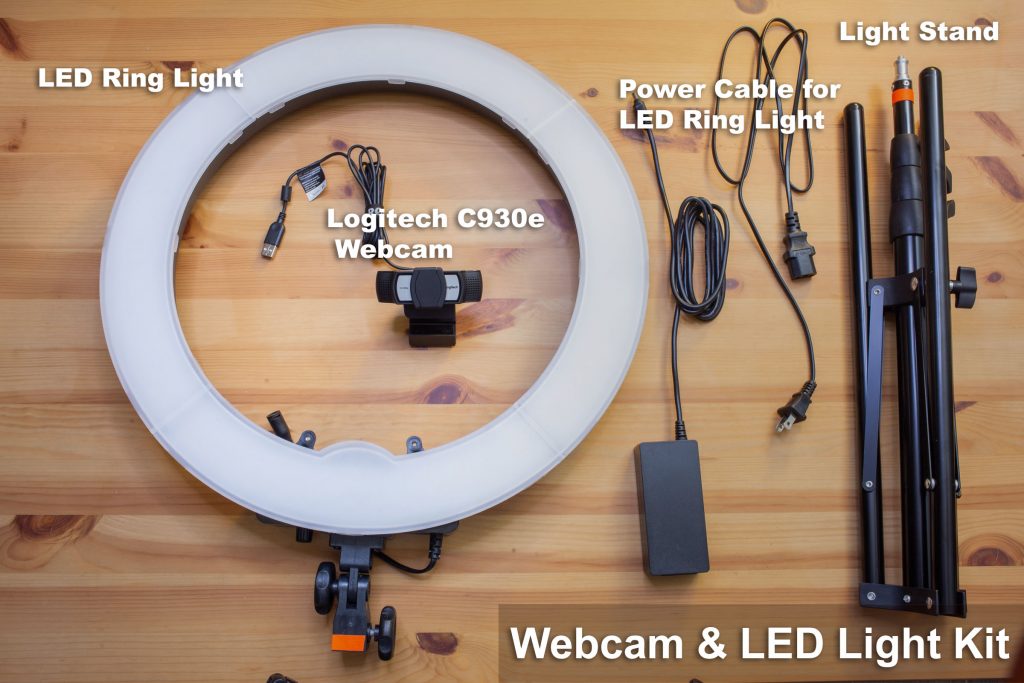 Logitech C930e Webcam
Camera Overview

Let's first go over the features of the webcam before we plug it in.
Attach the webcam to your laptop or desktop.

The Logitech C930e can fit onto any laptop or desktop computer.
Plug the camera into your computer

Once you have positioned the webcam on your computer, you're ready to plug it into your computer.

The webcam is USB-A, so if your computer has one of these ports, simply plug it in. If your computer uses USB-C, please attach one of the adapters provided in your kit, then plug in the webcam.

There are no drivers for your computer to recognize the webcam, but Logitech offers a free software called Camera Settings that can give you greater control of your image.

Once the camera is plugged in, you can test to make sure it works by going to the Drift Camera Test and clicking on Test Camera.

Notice that when the camera is in use, the white lights on the edges of the camera activate.
Additional Tips and Software to get the most out of your image

Now that your webcam is working, we can adjust it to make sure your image quality is as good as possible.
Light Stand
The most important element in achieving a professional, high-quality video image is proper lighting. If you have a very nice camera, but bad or insufficient lighting, you will never be able to maximize its full potential.
Setup the light stand

Before we setup the LED light, we must first set up the light stand.
Now that we have prepared the stand, we can bring out the LED ring light.
LED Ring Light
There are only two pieces to the LED ring light – the light and the power cable. Let's take the light out of its case and examine it to make sure nothing came loose in transit.
Examine the LED ring light
Place the LED ring light onto its stand.
Plug in the power cable and turn on the LED ring light
Best practices for lighting
Proper height and angle of LED light
Proper placement of LED light